Back To Our Services
The world today has changed completely. If people were used to leaving the doors open overnight in the past, today it would seem absurd. Even in a small city like Tacoma, residents need phone entry systems/intercom services. Our driveway gate company in Tacoma prides itself as an innovative company, being concerned about the security of the community. Although a simple lock might be useful for your yard gate, garage gate or even for your main entrance, it never hurts to have a little more.
We are out to offer the best phone entry systems Intercom for your home or business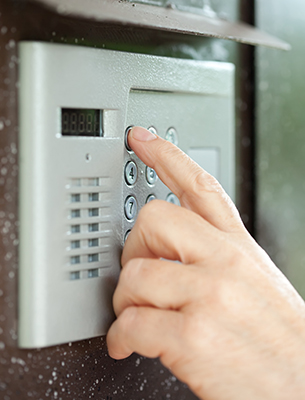 Our company in Tahoma offers the best phone entry systems that are produced by brands like Elite, DoorKing and Linear. This being the case you can be sure you will benefit from the best keypads telephone entry systems in the world. We realize that there may not be a great chance you will get robbed in Tahoma. However, being safe is better than being sorry, so it might be best to get great safety systems. If you are ever in Tacoma you may want to visit the Tacoma Art Museum or the Museum of Glass. Both are very impressive.
Our driveway gate company in Tacoma will not only install and repair the phone gate system, but it will also provide maintenance tasks annually and in accordance with your needs, 24/7 emergency repair service. Our driveway gate company in Tacoma also offers services to the commercial area as witnessed in our residential & commercial Residential Entry systems. At our driveway gate company we use products like the Commercial Entry Systems from brands like ELITE, DOORKING, and the LINEAR programming service. Do not think about those automatic and electric gates just as protection methods because they are also an investment in your comfort because those doors will open automatically just by sensing your car approaching.
As an established member of the Tahoma community, our company is offering not only those high–tech services but others as well. Whenever you think iron works we want you to think about us, rather we are talking about new cages for your dogs or security barsfor your house. Do you need some customized gates with the logo of your company on it? Or perhaps a new pedestrian gate for your company's office? Do not worry because our company can provide you with those in less than 24 hours. A lot more services are available on request such as:
* Security doors
* Railings and guards
* Cages
* Pool enclosures
* Window guards
* Dog runs
* Fences
* Railings
* Pipe corrals
* Retaining walls
Even if you need iron works that are not listed on our site, just call our qualified customer support team and they will begin designing the work you need.
Being the best company for iron works in Tacoma, we are not worried about the competition. We conduct maintenance and repair on gates and fences that are not manufactured by us. We know how annoying a broken gate can be in the middle of the night, so ourcustomer service is available 24/7. As for our staff, we take great cautions in choosing our personnel, and we are training them to the full extent of our ability. With such great focus being displayed in every little aspect of iron works you can be sure that our driveway gate company in Tacoma is the best choice for you.
Back To Our Services