Back To Our Services
Are you in need of a gate or fence service and live in Tacoma? I have the best company for you that can handle every service there is that has to do with gate and fences and their related parts. Our driveway gate openers company in Tacoma is the best in the area and we say this with confidence. Our company can handle repairs. We can handle installs and most of all we supply every part that may be needed. Another great thing about our company is that we are available 24/7 for emergency services so give us a call and we will get to you as quick as we can.
Proper gate operation ensures home security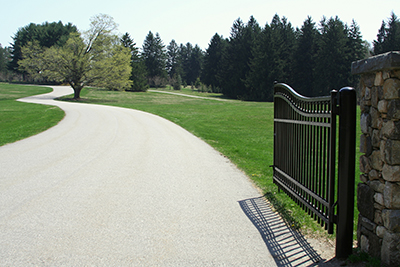 This is the reason why people install gates in the first place and why the services of our gate contractor are meaningful. We provide full gate home services, including electric opener repairs and intercom needs. Our professionals are knowledgeable of the latest systems and fully organized. With perfect equipment in each van of our company and expert technicians, all gate repair needs are covered with speed and excellence. Urgent needs are covered the same day and maintenance service is performed with great attention. Thanks to our thoroughness all services are meticulous and take care of problems. We are aces in new gate installation, intercom repair and opener service. We maintain such systems with great care and utilize our specialized gate knowledge in order to ensure the safety of the people, who trust our gate service.
Do you have a gate on your driveway and tired of having to get out of your car to open a d closes the gate? One service that our driveway gate company can do for you are with driveway gate openers. We supply only the best brands there is and have some of the best contractors to come in and install your opener. Not only can we come and install new driveway gate openers, but we can also come out and repair your a driveway gate opener that you already have. All of our contractors are well trained and have years of experience. Like I said earlier our company is open twenty four seven so time should never be a factor in deciding to use our company.
Our driveway gate openers company in Tacoma supply's a number of top brands and you can choose which meets your needs. These include Viking, Reno, Linear, and All O Matic. These are all great brands that have been satisfying customers for a long time. Another thing that you need to think about when deciding on a gateway opener is the type of your gate. There are three different types of swing which are single, sliding, and bi-parting pair. The swing type usually depends on the size of your gate; the bigger ones usually are bi-parting. This is important because you want to make sure you use the right opener for your gate. Our driveway gate openers company in Tacoma will make sure you are buying the right opener.
Another choice that our driveway gate company provides you after installing your driveway gate opener is a driveway gate remote, which allows you to open your gate from your car. This makes life a little simpler for you. We also offer a safety loop with our driveway gate openers. There are photo eye sensors that you can have installed that will reverse the action of the gate if there is blocking the way. These are a must with any opener for added safety.
Our driveway gate company in Tacoma is not limited just to driveway gate openers, because this is just one of the many services that we offer. We can also help you with any type of fence needs you may have, including installation and repair. We can have an intercom or phone system installed with your gate too. Our company can also help you with a lot iron work including dog runs, pool enclosures, security doors and window guards.
Back To Our Services